MARSHALL ARLON "MIKE" LANGLEY
(Seen here as a 1st Lieutenant and as a Lt. Colonel)
            Sadly, Marshall Arlon Langley is not listed by the Department of War of those from Caldwell County who died in World War II. He most definitely belongs with those listed from this county.
            Marshall was born in Fentress on November 21, 1913, the only son of Willie Evans Langley and Essie (Smith) Langley. He had two younger sisters, Mary Ethel and Billie (Cutcher). In 1917, Willie was tenant farming near Goforth in Hays County, according to his draft registration form. By 1920, he and his family had moved to Caldwell County, where Willie and Essie would live the rest of their lives. Marshall's parents are buried in the Woodmen of the World Cemetery in Prairie Lea.
            Marshall attended Prairie Lea schools, and in his senior year in 1931 was class vice-president. There were twelve graduating seniors. Marshall enrolled at Texas A&M and was a member of the Corps of Cadets. His senior year he was Planning and Training Officer on the Second Battalion, Field Artillery Staff. He also played on the varsity baseball team. He would come home for summer vacations and some holidays, although in 1933, his mother and father travelled to A&M to be with him. A&M was playing the University of Texas at Kyle Field that year. The game ended in a 10-10 tie.
            Marshall graduated from A&M and was commissioned on May 23, 1936 as an Army 2nd lieutenant. His branch was Field Artillery. He also got a job in Dallas. He went on inactive military status until November 1937. His employment took him to Beeville, where he worked with an oil company and then with Texas Power and Light. He joined E Battery, 133rd Artillery, an organic unit of the 36th "Texas" National Guard Division. He was promoted to 1st Lieutenant in July of 1939. The Division's field artillery units were woefully short of equipment in the pre-War economy of the Depression, but in 1937, received new 155 mm howitzers. The 133rd'a motto "Dum Spiramus Tuebimur" (While We Breathe We Shall Defend) reflected more the hopes rather than realities of its abilities during that time.
            While working in Beeville, Marshall married a San Marcos girl, Leila Elnora Coovert, in December 1938.  He and his new wife made several visits to Caldwell County to visit his parents. They would have one child, Larry Wilson Langley, born on October 19, 1943. Larry died in in 2007. Leila died in 1999.
            The 36th Division was activated to national service on November 25, 1940. On that day he was promoted to 1st lieutenant. In February 1942, Marshall was promoted to captain.  The division training kept it at Camp Bowie through most of 1942, and his wife joined him there. He was promoted to major on July 6, 1942, and lieutenant colonel on March 5, 1943. Lt. Colonel Langley's promotions in field artillery went along with numerous changes in the units in which he served. The massive growth of the armed forces created many changes. A portion of the 133rd became the 202nd Field Artillery, and another portion became the 961st Field Artillery. In late 1943, Marshall Langley was placed in command of the 174th Field Artillery Battalion, then training at Camp Bowie, near Brownwood.  The outfit boarded trains and left for New York on February 15, 1944. The unit loaded onto an old liner, the HMS Samaria, and sailed from New York on February 27, 1944, arriving at Liverpool, England on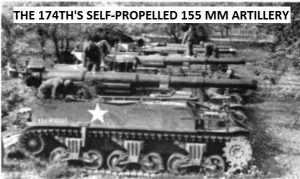 March 10.  After training all over England, including in the Marcher country near Wales, the 174th shipped to Normandy, landing on July 1, 1944.  Almost immediately, it went into action in places like Meautis, Periers, Coutances and La Haye Pesnel. The unit's men were exposed to air attacks, mines, snipers and enemy artillery fire. It played a large role in the taking of the port of Brest, one of the nastiest urban battles on the Western Front. The 6th Armored Division's commander had tall praise for the 174th during this action: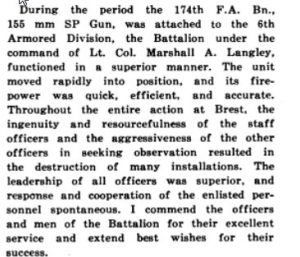 By November 1944 the 174th was attached to the 83rd Infantry Division in Luxembourg. All was well in the relatively static lines near Bech until December 16, 1944 when all hell broke loose – the Germans struck without warning into the Ardennes Forest in what became known as the Battle of the Bulge. On December 18, Langley personally led a 30-man unit to help rescue an artillery battery of an infantry regiment that had been surrounded by the Germans. Along with the infantry of the 1st Infantry Division, the 174th's artillery stopped a German secondary drive toward Verdun. All of December 1944 and January 1945 was spent in the misery of constant winter combat as the Bulge was eventually eliminated. As the Allies approached the Germans' Siegfried Line on February 25, 1945, Lt. Col. Langley gave a written 'pep talk' to his men, commending them for their fortitude and prowess. It read in part: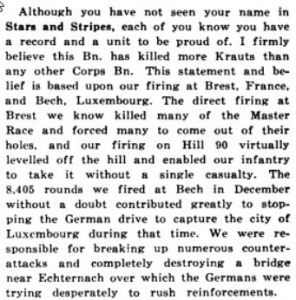 Next came the crossing of the Rhine River. While some American forces were fortunate to use the damaged Ludendorff railway bridge at Remagen, and later a floating Bailey bridge adjacent to it to make the crossing, others crossing the last major natural obstacle into the heart of Germany were forced to use assault boats. This was the case at St. Goar, where ancient castles dotted the cliffs near the statue of the mythical Lorelei. The terrain favored the defenders, and the 87th and 89th Infantry Divisions were tasked with the attack. The 174th established a firebase to support the crossing, planned for the early morning hours of March 26, 1945. The crossing was no cakewalk, as Germans riddled many of the first boats crossing the river. Early that morning, Lt. Col. Langley, along with T/4 Walter Tipton and Cpl. Russell F. Meese were on a reconnaissance when their jeep was fired on a by German 20 mm gun from the east side of the Rhine River. The 174th's commander was killed instantly and Meese fatally wounded. Harry Snyder, writing shortly after the end of the war noted:
 Lt. Col. Langley commanded the 174th F.A. Bn. through its entire existence as a separate battalion. The comfort and safety of his men were ever uppermost in his mind….The most fitting tribute that can be paid him lives in the simple words spoken by one of the men of the Battalion, "He was a good man."
Leila had just received a letter from her husband, dated March 19, 1945 telling her all was well.
Lt. Col. Langley was buried in the 3rd Army's burial grounds near Stromberg, Germany. He was thirty-one years old. He had seen his son for less than four months before shipping out. As his widow and son were living in San Marcos, his death was reported in both the Post Register and the San Marcos Record. It cannot be overstated the sadness that must have been felt by the entire Langley family when their son, brother and husband was killed so close to the end of the war in Europe.
The Lockhart Post Register of April 25, 1946 report  ed that the year's Aggie Muster, held on San Jacinto Day, April 21st, honored Marshall and ten other Aggies of Caldwell County's 'gold star' men, killed in World War II.
            Mike Langley came home in 1948, and on October 15th of that year his funeral was held at the Pennington Funeral Home in San Marcos with the Reverend Troy Hickman presiding. Graveside services were conducted by the San Marcos American Legion Post. His pallbearers included Ben Campbell, Edward M. Neal, Gainer Jones, and Jack Ferguson.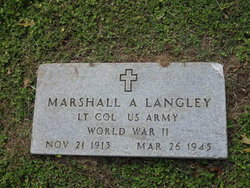 Lt. Colonel Marshall Langley's Headstone- San Marcos Cemetery