ANNA DORIS "JIMMIE" KREUZ
            Anna Doris, or "Jimmie" as she insisted from childhood on being called, was born to Alvin and Mamie (Whisenant) Kreuz on March 14, 1920. The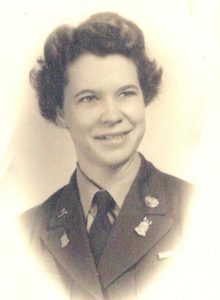 third of three sisters, (a
brother would come along in 1931) she was a tomboy, and excelled in sports. The Kreuz family home was at 123 Trinity Street, Lockhart. Joe Bunch grew up across the street from the Kreuz family and fondly remembered Jimmie. She always owned a horse, and would often ride her horse up to the Bunch front yard where she would tell Joe to 'climb on' behind her. They would then ride all over Lockhart. She graduated from Lockhart High School in 1936 and then took a business course to become a stenographer. She served as the Sunday school secretary at Lockhart First Presbyterian Church and was captain of the local women's debating team. Jimmie worked for the Alamo Lumber Company before taking the job of Secretary of the Lockhart Chamber of Commerce. When the war began, she became Captain in the local Women's Defense Corps.
            The Women's Army Auxiliary Corps (later shortened to the Women's Army Corps or WAC) was P. Hobby. The Corps was created to fill gaps left by men leaving for the service. Ultimately, over 150,000 women enlisted, serving in all theaters of the war, and in many non-combat roles originally held by men. General Dwight Eisenhower said of them, "their contributions in efficiency, skill, spirit, and determination are immeasurable." The WAC success spurred the creation of Navy WAVES, Coast Guard SPARS, and Women Air Force Service Pilots (WASP). The WAC was intended to be a wartime organization only, but its success kept it from being disbanded until 1978, when men and women were placed on equal footing in all branches of the military (except in combat roles).
Jimmie enlisted in the Women's Army Auxiliary Corps on January 9, 1943. Jimmie's enlistment records showed her to be 5 feet, 5 inches tall and weighing 140 pounds.  She was the first woman from Lockhart to enlist in the WAAC. Jimmie attempted to resign from her duties at the Chamber of Commerce when she enlisted, but the Chamber members insisted that they were only allowing her to "be on leave," promising her job would be open when she returned from the service.
Prior to reporting, she was "the subject of numerous social courtesies before her departure." Lockhart Mayor Sam Tabor introduced her as the honored guest at a Lockhart city council meeting the first week of February 1943. Guests at the meeting included Mrs. HV Reid, Mr. and Mrs. CM George, and Mr. AW Mohle. The paper noted, "Miss Kreuz responded with a few well-chosen words."  Jimmie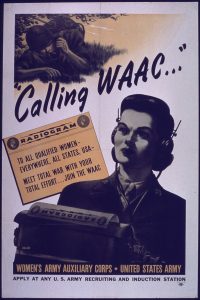 was by all accounts an extremely likeable and popular young woman. Because of these traits, and the fact that she was the first local woman to enlist in the Women's Army Auxiliary Corps she received much laudatory press coverage. The Post Register described Jimmie as "[a] lady of fine personality, physically capable, experienced in making contact with people, an extraordinary executive, alert as to duties assigned. Lockhart people expect her to advance in the service of the W.A.A.C."
After enlisting, she reported for service in San Antonio on February 7, 1943 and received her eight weeks of basic training in Des Moines, Iowa.  She then received additional training at various posts in Iowa, Louisiana, and Georgia. She was promoted to Corporal. Because of her outgoing personality, she was made a recruiter. She was a very successful one.
            On July 8, 1944, Jimmie was attending a tennis game at Maxwell Field (later Maxwell Air Force Base) in Alabama. She was seated in the bleachers when she was struck by lightning and killed instantly. Her body was shipped by train to Luling. Her casket was met there and accompanied by military units to the family home at 419 Trinity Street, where it lay in state "amid masses of exquisite flowers…" Businesses all over town closed for her funeral at the Lockhart Cemetery. Present was an honor guard of WACs from Randolph Field. A contingent of airmen from the San Marcos Air Field served as a firing squad. Among those serving as pallbearers were local Texas State Guard members Harry Annas and Gershon Rosenwasser. The Chamber of Commerce prepared a commemorative piece in the paper, noting, "No more useful or highly esteemed citizen ever lived in Lockhart that Miss Jimmie Kreuz."
            The Post Register stated, "Her life was lived honestly, joyously, and courageously before God and her fellowmen."
Jimmie was twenty-four years o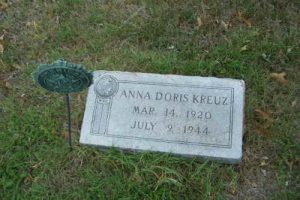 ld.
Jimmie Kreuz' Headstone-Lockhart Cemetery

FROM REFERENCE NOTES IN THEY GAVE THEIR ALL: The true stories of the brave men – and woman – from Caldwell County, Texas who gave their all in World War Two by Todd Blomerth Copyright 2016
KREUZ, ANNA (JIMMY) – Jimmy's photo was sent to me by her younger brother, Charles Raleigh Kreuz, a retired oil company executive and consultant, living in Fredericksburg, Texas. He has kept her photo by his bedside his entire life. Joe Bunch provided much personal information about Jimmie, as well as other members of the Kreuz family.  Raleigh passed away in 2017.