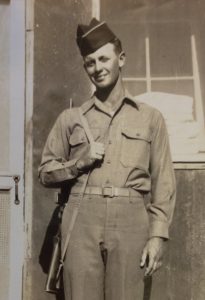 GEORGE ALLEN HALSELL JR.
George Allen Halsell Jr. (or "G.A." as he went by) was the only child of George Allen Halsell, Sr. and Lula Mae (Hurst) Halsell, George Sr. was 32 years old and Lula Mae was 31 when G.A. was born in McMahan on December 7, 1923.  When he was a small child, the Halsells moved to 502 North Blanco Street, Lockhart. G.A.'s father, a carpenter by trade, was a World War One veteran, although his unit never was sent overseas. Easy going and extremely well liked, G.A. joined other boys like Fleetwood Richards, Forrest "Jack" Wilson, Herb Reed, and G.A.'s best friend George "Bubba" Chapman for Saturday morning tackle football games, played barefoot and without any pads. These same boys later joined the high school football team. G.A. graduated from the Lockhart High School in June of 1941. He then entered Texas A&M, where he turned 18 on the day of the Japanese attack on Pearl Harbor. After three semesters, he left school, enlisting in the Army on February 16, 1943. After basic and advanced training, G.A. (or "Tex" as he was inevitably branded) was assigned to a machine gun detachment in Company L, First Infantry Regiment, Sixth Infantry Division.
       The "Sightseeing Sixth" was initially slated for combat duty in Africa but found itself being reassigned to the Pacific. The unit sailed from California to Hawaii arriving on September 9, 1943 where it underwent tropics and jungle training. Leaving Hawaii in late January of 1944, the Sixth Infantry Division arrived at Milne Bay, New Guinea of February 7th. It then became part of General Douglas MacArthur's Southwest Pacific force.      New Guinea is a huge island, and its location northeast of Australia athwart shipping lanes provided the Japanese with a number of bases that required neutralizing as part of the Allied advance north toward the Philippines and ultimately, Japan. The division first saw combat in June of 1944 in and around Toem-Wakde, then fought a nasty ten-day battle at Lone Tree Hill that left over 1000 enemy dead among a labyrinth of coral caves. The division then participated in MacArthur's landings on Sansapor in New Guinea's Vogelkop Peninsula. After re-fitting, the Sixth Division was part of the massive Allied effort against the Japanese on the Philippine island of Luzon.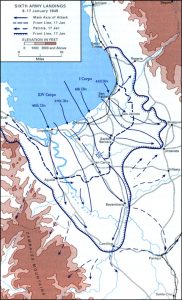 The January 9, 1945 Lingayen Bay landings were largely unopposed. However there were three main Japanese forces on the island of Luzon. One, given the name SHIMBU by its commander, contained over 30,000 crack troops.  The Sixth Division was part of a force given the task of securing the Philippines' largest city Manila's water supplies, held in reservoirs in mountains east of the city. Resistance stiffened immediately. The First Cavalry Division's commanding general was killed in the fighting. In the Lingayen Bay Landings 1-45     word of one chronicler:
"To the north the 6th Infantry Division fared only slightly better. Its initial objectives were Mount Pacawagan and Mount Mataba, two strategic high points crucial to capturing the Wawa Dam. Both mountains were defended by extensive Japanese artillery and infantry positions."
            It was in this nasty hide and sneak combat against   tunnels, foxholes and a well-hidden enemy that G.A. was killed. He was twenty years old.
        The Lockhart Post Register of April 5, 1945 sadly announced G.A.'s death. Later, a letter dated March 26, 1945 was received by the family from one of G.A.'s best friends in the Army. Responding to the Halsell's inquiry as to what had happened to their son, Desmond (we don't know his last name) wrote:  "I am still in a daze, and probably because of my simplicity have been unable to put into words things that I know and feel my duty to tell you." The letter told how G.A. died in his arms:
On [February 26, 1945] after several hours of walking we came to the fort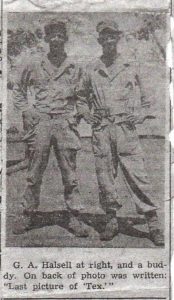 of our objective, a mountain range some 1400 feet high. After climbing within a couple hundred feet of the top our machine gun section was called to the front. When contact with the rifle men behind us was lost, George and I being the last two men, tried to contact them by shouting. After several unsuccessful attempts George stood and yelled. Just when contact was made he turned to sit down, and a sniper hit him just below the right shoulder blade, turning toward his lungs. Not being sure, I asked, 'Are you hit?' He said 'In the right', never saying shoulder. As he was less than ten feet behind me, I was soon at his side. Since it was a sniper lane we had to keep low ourselves. Within a couple of minutes Henry Vredenburg (Oregon) and a Medic whom I only know as Rigstad were also at his side. Rigstad and I dressed the wound and I washed his face and upper body, while Henry tried to help him breathe. During those moments I was closer to the Good Lord than ever before. I prayed for George for I knew he was beyond that point. As he lay there, life slowly ebbing out, I know you will be proud to know that he did not cry or complain but lay there still until the end. He was shot at around 1:18 p.m. and at 1:25 I slowly crawled away from him after folding his arms and covering his body. It was the hardest thing I ever had to do, but I knew I had to continue on with the fellows up ahead.
He went on to tell of the closeness of their two year friendship, and plans for the future of "riding into El Paso someday. They had looked forward to seeing Manila (it had just been liberated after horrific urban battles). Desmond assured the Halsell family of G.A.'s Christian beliefs. He and Desmond had attended church services less than twenty-four hours before G.A.'s death, and G.A. had requested Charlotte Elliott's hymn "Just As I Am" to be sung.
            Captain Frank Bair, G.A.'s commander, later wrote to the Halsells that "Company L was leading an attack on Mt. Mataba …. George was acting as first scout of the Company which was making an advance to the top of a hill. Enemy resistance was very severe and George lost his life… as a result of wounds…inflicted by enemy snipers."  Although the intensity of the fighting had so far prevented recovering G.A's body, Bair promised every effort would be made to do so, once the Japanese were driven from the area.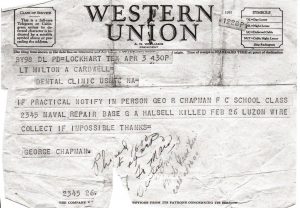 George ("Bubba") Chapman was one of G.A.'s best friends. He was in a Navy school when the family received word of G.A.'s death. Bubba's dad immediately sent a telegram to his son    to break the news to him.
            G.A.'s body was later recovered and buried in the Philippines. In 1948, his body was disinterred and returned to the United States. On October 23, 1948, businesses in Lockhart closed so G.A.'s many friends could attend funeral services officiated by Reverend Ed. V. Horne held at the T.B. Field Funeral Home. G.A. was reburied in the Jeffrey Cemetery with full military honors. Many of his childhood friends, all veterans of the war and
now members of the American Legion, served as casket bearers, color guards, and firing squad.
            G.A.'s parents died within three weeks of each other in 1956.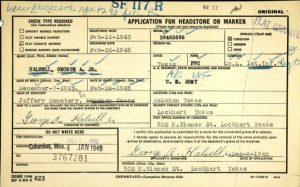 George Halsell Jr.'s Headstone Application, Jeffrey Cemetery, McMahan