DELMAR TALLY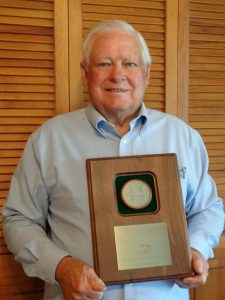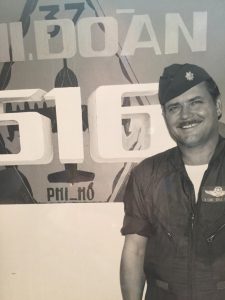 by Todd Blomerth
FROM COMBAT CLOSE AIR SUPPORT IN VIETNAM TO HONORED SAFETY ENGINEER, IT HAS BEEN A MOST INTERESTING JOURNEY
By
Todd Blomerth
I visited with Del Tally and his wife Betty in the bank a couple of months ago. As we visited, I mentioned my continued desire to interview veterans. I knew Del had served in the military, but at the time I was concentrating on World War Two veterans, and had not asked him about his service. Within the space of five minutes, I knew he had some stories that needed remembering. He and Betty graciously said I could visit them at their home. However, before that happened, Del wanted me to 'read up a little ahead of time.' Within a week of re-contacting Del, he dropped off two volumes on the A-37 Dragonfly, an aircraft I was completely unfamiliar with. I had some homework to complete.
            Delmar Tally was born in Lockhart on June 13, 1932, to Lonnie Erbin ("L.E.") Tally and Bertha Mae (Harris) Tally. Del was the youngest of six children. Three died in infancy. The others were Nona (Romine) and A.L.  The first years of Del's life were spent in Bateman, just across the Bastrop county line. L.E. was a barber, and had a small dairy. Del is proud of his five generations of Texas ancestors.
             Rural students in the 40s faced many challenges. Schools were small and scattered. The days of consolidated districts with financial resources were mostly in the future. While living in Bateman, Del first attended elementary school in Dale. Then the family moved closer to 'town' – three miles south of McMahan off a rutted road that would later become Highway 86. Del traveled on horseback to McMahan School every day until he completed the eighth grade. Bused in from McMahan to Lockhart for high school, he somehow managed to take care of chores on the home place and still play football. He was a hefty 130 pound halfback. He graduated in 1951 and enlisted in the United States Air Force. Older brother A.L. was already a pilot in the USAF, and I'm sure this was one of the incentives to join.
            In 1952, Del was accepted into pilot training. As an aviation cadet he transitioned from primary trainers into more complex and powerful aircraft at Bainbridge Air Base, GA  and at Webb AFB in Big Spring, TX.  He graduated #2 in his class and became an instructor pilot.  He trained many American, Turkish, Italian, and French student pilots.  He married his High School sweetheart, Jessie Mae Efird. They had a daughter Julie Hart, a recently retired L.I.S.D. District Nurse, and son David, a Certified Safety Professional (CSP) at the Austin  Convention Center.
            President Eisenhower sent brand new T-33 and F-86 aircraft and American flight instructors to Dhahran Air Base to train Saudi Arabian Air Force crews.  There Del trained the first class of Saudi Air Force pilots in 1958.
             1st Lieutenant Del Tally's next stop was Castle AFB in Merced, California. He showed up expecting to become a B-52 pilot. The B-52, amazingly still in service today, was just coming on line as America's main bomber. However, the base had failed an inspection, and the young officer was assigned to upgrade the T-33 trainer program. It was Del's first taste of safety training, and it would serve him well the remainder of his professional careers.
            While an instructor pilot at Castle, 1st Lieutenant Del Tally had a near death experience. He and a student took off, and as the T-33 jet trainer climbed off the runway, it had a 'flameout.' Unable to restart the engine, Del chose not to drop the fuel tanks or bail out, because of heavily populated area below. He was able to turn back toward the runway, drop the landing gear, and make a dead stick landing, unaware that his aircraft was on fire. He then avoided a fully loaded B-52 bomber taxiing for takeoff. No one was injured. It seems that Del's penchant for safely operating complex equipment paid off, as what could have been a disaster was averted by cool thinking, aviation skill, and God's grace.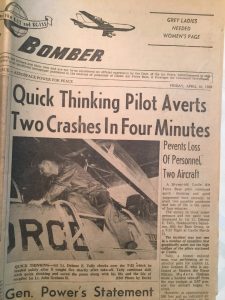 Newspaper headline of the near disaster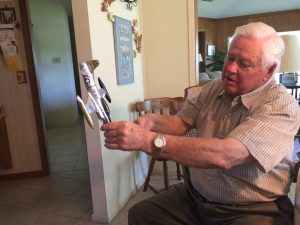 Del explaining his maneuvers to safely land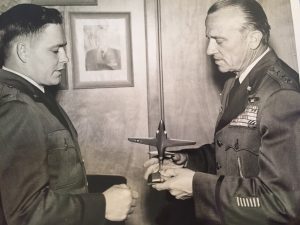 The next stop – Bergstrom AFB in Austin, Texas. A major's slot as flying safety officer / assistant base operations office came open. His training and record in safety helped get the position, and the young family moved to Lockhart. The Tallys lived next door to their good friend Dr. Phil Wales on Prairie Lea Street. Sadly, Dr. Wales, diagnosed Jessie Mae with leukemia in 1964. Treatment options weren't what they are today. She died nine months later.
            Bergstrom AFB, at the time, was a Strategic Air Command base. As the safety officer, Capt Tally flew often with B-52s during Operation Chrome Dome. During the depths of the Cold War, B-52s with nuclear weapons on board were in the air continuously, as a precaution against a Soviet Union surprise attack on the United States. The 26 hour missions, with multiple refuelings, would fly near the North Pole, approach Soviet air space, and then return to home base. Del would join the crew as an evaluator, and racked up hundreds of hours with these top secret missions. Fortunately for the world, the therm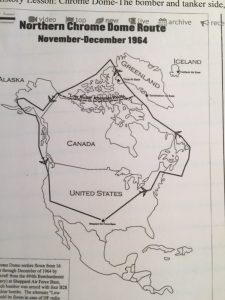 onuclear weapons were never used.
            The next stop for Del and his family (he remarried in 1966 to Autie Benson) was at the headquarters for the Strategic Air Command at Offutt AFB. He was the safety officer responsible for all non-tactical aircraft, up to and including the KC-135. In 1968, he became chief of safety for the 95th Strategic Wing at Goose Bay, Labrador.
            Then, in 1970, what seemed the inevitable happened. Major Del Tally received orders to Vietnam.
But first, he was sent to England AFB, outside of Alexandria, Louisiana where he learned to fly a most unusual aircraft – the A-37 Dragonfly. In the mid-1950s Cessna developed a highly successful jet trainer, the T-37. It's high pitched engine noise eventually got it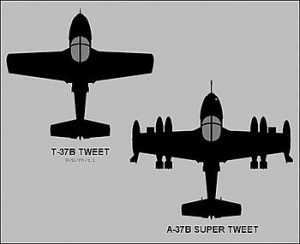 dubbed "Tweety Bird," or "Tweet." It would serve as the primary jet trainer for the US Air Force for over 50 years. With the growing military involvement in Vietnam, a tougher variant of the T-37 was developed. With more powerful engines, beefed up armor, larger wingtip fuel tanks, a 7.62 mm minigun, tougher landing gear, and three stores pylons ("hardpoints") under each wing, this small aircraft (dubbed "Dragonfly") would prove to be one tough and dependable bird. The A model made its appearance in the war in 1967. The more robust B model rolled out in 1968.
The South Vietnamese Air Force (VNAF) had, up to now, flown the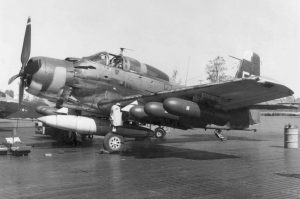 propeller driven A-1 Skyraider. The Skyraider was tough, and could linger over the war zone for hours providing close air support to ground troops. However, its slow speeds made it vulnerable to ground fire. VNAF would continue to fly this aircraft, but was also provided with the A-37. The airplane flew one hundred miles slower than other jets, and its slower speed enabled pilots to achieve an incredible accuracy rate – something desperately needed in the jungle warfare of the area. Armed with napalm, rockets and conventional bombs, its appearance often made the difference between death and survival for ground troops.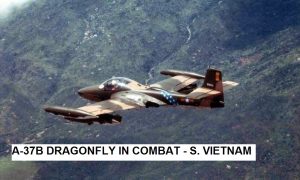 During Del's assignment at DaNang Air Base, South Vietnam as Air Division Director of Safety and Instructor Pilot advisor, he flew 300 combat missions, including three missions on a Sunday afternoon with troops in contact with "bad guys" shooting mortars onto DaNang Air Base.  This resulted in a Distinguished Flying Cross (DFC) award to Tally.  Other AF medals include Bronze Star and air medals (13 oak clusters).  Del still has contact with some of the squadron VNAF pilot survivors he flew with in Vietnam.

The Citation for Lt. Col. Tally's DFC
            Lt. Colonel Delmar Tally retired from the Air Force on August 1, 1973. He is rightly proud of his service to our country. He is just as proud of his subsequent professional achievements. His extensive safety training in the military served as a departure point for a transition into industrial safety.
            Immediately after his military retirement he went to work with the Occupational Safety and Health Administration (OSHA) in Dallas and then San Antonio.
            The Austin Chapter, Associated General Contractors (AGC) of America, hired him as Safety Manager to develop and improve their member safety programs.  Numerous national safety excellence awards were received by the chapter and the member companies during his tenure as Safety Manager and Executive Director.
            The Austin AGC and Del established Construction Safety and Health, Inc. (CSHI), a non -profit company to expand safety and health services to all Central Texas companies including construction and general industry including high tech companies such as Samsung, IBM, Motorola and many others.  CSHI safety professionals assisted safety managers write their safety manuals and taught safety courses in English and often in foreign languages such as Spanish, Korean, and Japanese.  Classes were taught to over 120,000 students.
         Del is a registered professional safety engineer in California and a Certified Safety Professional (CSP). Betty is also a Certified Safety Professional. Both continue as active members of the American Society of Safety Engineers (ASSE). They met when Del was with AGC, and she was an OSHA inspector. Betty retired from OSHA and worked at CSHI as a safety consultant before Del and Betty married in 1995.  Betty was honored as one of "100 Women Making a Difference in Safety" in 2011. Del received the Society's highest honor, the "Fellow" designation in 1997 and the President's Award in 2013. The ASSE is the oldest and largest professional safety organization. Its goal is to create safer work environments, and prevent workplace injuries. Del also served as the national ASSE president in 1985/86. He and Betty created the Delmar and Betty Tally Professional Education Grant, which provides financial incentives for further education of safety professionals. Del retired again a few years back.
            Del and Betty don't let grass grow under their feet. They live on a ranch Del and his brother A.L. purchased many years ago, in the home Del designed in the 1970s. Until recently, they offered their services as professional consultants in industrial and construction safety. They raise black angus cattle. Del is chairman of the Old Red Rock Cemetery where so many of his family have been laid to rest. They are members of Lockhart's First United Methodist Church.
            Please thank Lt. Colonel Tally for his many years of service to his country, next time you see him.