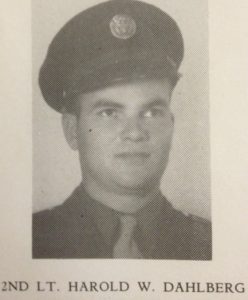 Harold's father Olaf Z. Dahlberg was a Swedish immigrant. His mother, Jennie Emelie Edlund was born in South Dakota. Harold had four older siblings, Albert, Oscar, Wilma, and Clifford. The family lived in Minnesota until 1910 when it moved to Texas. The Dahlbergs settled first in El Campo, and then moved in 1913 to Wharton. Angleton, Palacios and West Columbia were also places they called home. Olaf's World War I draft card showed him as a cotton gin and ice plant worker, and living with his family in Francitas, Jackson County. Olaf also operated movie theaters in Palacios and Angleton between 1913 and 1924 and then a water works in West Columbia. Harold was born on November 7, 1916 in Wharton or Francitas. By 1930 Olaf was working in the oil fields and the family had moved to Guadalupe County. The family moved across the San Marcos River into Caldwell County by 1935, and Harold attended Prairie Lea schools and graduated from Prairie Lea High School. By 1940, Harold was married to Miss Evelyn Cartwright, a young lady from Prairie Lea and the two resided at 2021 S. Shepherd in Houston. A census notation stated he was a 'clerk.' He and Evelyn then moved to San Antonio, where he worked as an aviation mechanic at Duncan Field. On February 24, 1943, he enlisted as a private in the Army Air Corps, with the intention of becoming a pilot.
            He called Luling his home during the war as his wife and new son, Harold Paul, resided at 816 Austin Street. Apparently his parents were either divorced or separated at this time, as his father Olaf lived in Darst Creek and his mother lived on a rural route near Kingsbury, Guadalupe County.
 Harold's dream of becoming a pilot became a reality. His cadet schooling began at the University of Tennessee in June of 1943, with flight schools in Alabama and Mississippi. He completed his four-engine transition training at Maxwell Field, Alabama in July of 1944. He went overseas in late 1944 assigned to the 864th Bombardment Squadron, 494th Bomber Group. The 494th's nickname was "Kelly's Kobras", after its commander, Colonel Kelly. This unit was created in late 1943 as a B-24 squadron, and assigned the B-24J long range bomber.  By the time Harold joined this outfit, it was bombing Japanese airfields on Yap and Koror, and later in the Philippine Islands. As Okinawa was being cleared in bloody ground fighting, the squadron moved there in June of 1945. From that time until the Japanese surrender it bombed enemy targets on the island of Kyushu, and in China and Korea. After the war ended, Harold's unit was tasked with transporting personnel and supplies back to the United States as part of the "Sunset Project."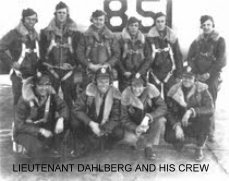 At around 8 p.m. on November 7, 1945 (his 29th birthday) Harold piloted a B-24M (Serial Number 44-51874) and took off from Guam's Harmon Field on a ferry mission to Kwajalein and eventually to the United States. His wartime crew had been broken up by this time. Instead, on board were several NCOs and junior officers catching a ride on their long trek home from the Pacific Theater. Harold's B-24 crashed about 1.5 miles from the end of the runway. Five of the nine men on board, including Harold, were killed. An investigation could not come up with a conclusive reason for the accident, but it determined that there might have been engine failure. Witnesses reported hearing backfiring, and then seeing the plane swerve to the left as it failed to gain altitude before impact. The accident investigator's recommendation that "war-weary B-24s be restricted to day take-offs at this field" due to a terrain rise at the end of the runway was immediately put into practice.
            On Sunday, January 16, 1949, his body was returned from overseas for burial in the Luling City Cemetery. A funeral service was held at Luling's First Baptist Church.
            In 1951, Harold's brother Clifford, who resided in Ft. Worth at the time, requested a military headstone for his grave. His request was granted. However something strange happened to the headstone. Although shipped to Luling, it never made it to Harold's grave. Harold's wife Evelyn remarried after the war and later divorced. Harold's headstone ended up behind an old house in Taylor, Texas, thought to have been that of her second husband.  How or why it ended up there is unknown. Thankfully for the Dahlberg family, someone found it and located family members. It was retrieved by a grandson, and Harold's son Paul, who had not been aware of the headstone's existence, properly placed on Harold's grave in the Luling City Cemetery where it remains today.