L.C. "CHUCK" FORESTER
FROM COVERT MISSIONS TO REFUELING B-52s
By Todd Blomerth
Chuck Forester was born on November 23, 1931. He was the son and middle child of Charles Forester and Myrtle (Belt) Forester. His dad was a roustabout for Magnolia, and the family lived in the shotgun housing provided to the company's workers near Stairtown. His older sisters Maxine (Beyer) and Margie (Beyer) have passed away. Younger brother Bill died in 2014. The youngest of the family, Charles Jr., lives in Canyon Lake.
The post-war National Guard accepted Chuck well before he left high school or turned eighteen. "The War had gutted the 36th Division," he says. "Maybe that is the reason I was able to enlist so young." The $30 a month he earned was needed by the family, and he enjoyed the comraderie of Luling's Company I, 141st Infantry, 36th Infantry Division. He also thought highly of the unit's commander, Captain Bob Allen. Chuck graduated from Prairie Lea High School in 1949 and  he and three buddies decided they were going to make their fortune on a seismograph crew near Saskatoon, Saskatchewan Province, Canada. "That lasted until the first cold weather," he recalls. The four (Chuck, Jerry Sanders, Louis Green, and Ray Griffith) decided to head south and join the US Air Force, which they did. Chuck enlisted on July 1, 1950. It was a time of great uncertainty and no little amount of fear. North Korea had invaded the south, and a patchwork of United Nations forces, overwhelmingly American, were trying desperately to avoid being pushed off the peninsula. The Soviets had infilitrated the American atomic bomb program at Los Alamos, created their own nuclear weapon, and exploded it in Kazakhstan. Mao ZeDung's Chinese communists had pushed the Nationalists off mainland China and onto the island of Formosa, and were in the process of killing and enslaving millions of their countrymen. In Europe, Stalin had instituted a reign of terror in the occupied areas of Eastern Europe. All in all, a most 'interesting' time, and an exciting time for a young man to be in the US military.
Chuck's assignments were much more interesting than most. After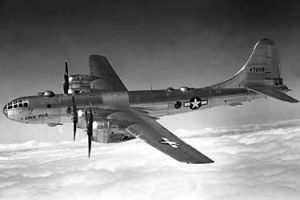 initial training at Lackland AFB, he was sent to gunnery school in Colorado, and then gunnery maintenance school at Randolph AFB. He then became a waist gunner on a B-29, America's largest bomber of the time. Soon, he wound up at Wheelus AFB in Libya assigned to an Air Force unit innocuously termed "580th Air Resupply and Communcation Wing – Air Resupply and Communications Service." Created in 1951,  it was nothing like its title. In his book "The Praetorian STARShip: the Untold Story of the Combat Talon," Jerry Thigpen writes:
 In July and September 1952, the 580th ARCW…embarked its support personnel by way of ship to North Africa for its initial deployment overseas….Life at Wheelus AB [in Libya] was Spartan, at best, for the first six months of operations. Personnel lived and worked in tents enduring the sweltering summer heat of North Africa….A primary customer for the 580th was the 10th Special Forces Group (Airborne) which was garrisoned at Bad Toeltz, Germany, in the Bavarian Alps. Tenth Group personnel would deploy to Libya for parachute and desert survival training.
Various Air Resupply Communication units were stationed in Korea and Southeast Asia as well. Psychological warfare, aid to anti-communist guerillas, insertion and extraction of military units, spies and defectors were all part of their role in the increasingly Cold War.
As described in "Twilight Warriors: Covert Air Operations Against the USSR" written by Curtis Peebles:
The B-29 was the only aircraft able to drop rangers and their supplies into the USSR. The aircraft had a range of four thousand nautical miles, a minimum payload of four thousand pounds, and the ability to fly low-level, long-range missions.
Suddenly, a newly minted Air Force sergeant was involved in something few of us have ever heard of – covert missions skirting the Iron Curtain countries. As he puts it, "We weren't 'supplying' anybody!"                      
 Chuck found himself as a de facto jumpmaster, using the B29's bomb bay as a jump door. The modified bomber, using a Norden bombsight, determined drop points instead of bomb release points. Chuck tells of getting the "go" sign from the cockpit and hitting each soldier on the helmet signaling them when to fall through the open floor of the plane. Amazingly heady stuff for a young man to be sure! After a fifteen month tour in the blazing heat of North Africa, Sergeant Forester rotated back to the United States.
.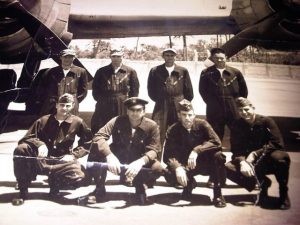 Chuck (back right) and Crew – B-29                                   Wheelus AFB – Early 1950s – Libya
During a trip home to Prairie Lea, Chuck attended a play performed at the high school He spotted a beautiful woman seated a few rows ahead of him. "She saw me in my dashing uniform, and that was all she wrote," he chuckles. They were soon married at the Prairie Lea Baptist Church. Beverly (Nivens) and Chuck have been married for sixty-five years. They are the parents of  Marshall Bruce, Rodney Bill, Tommy Doak, and Charles T.
            During the 1950s, Chuck was transferred often. Perrin AFB in Sherman, Texas; Sheppard AFB at Wichita Falls, Texas; and Dyess AFB in Abilene were three of the bases where he served.  Chuck was steadily promoted while he was part of the Air Force's massive nuclear deterrence program – the Strategic Air Command. The Cold War's possibility of turning 'hot' with nuclear strikes by the Soviet Union,  and the fear of a sneak attack, caused the United States to keep strategic bombers and reconnaissance aircraft continually airborne, both near the Soviet border, and over the North American continent. "Operation Looking Glass," with nuclear armed B-47s, and then B-52 Stratofortresses, became part of the grim concept of Mutually Assured Destruction. Chuck became an aerial refueling specialist. Fueling a fast flying aircraft was and is tricky business. He started out as a boom operator on a KC-97 Stratofreighter, propeller driven aircraft that mostly refueled jets. As the KC-97 was phased out, Chuck transitioned to the KC-135, a jet powered refueler, which is still in use today.
            Chuck's assignment as a boom operator was one requiring great skill, and occasionally, nerves of steel. A KC-135 is a flying gas station, which, when fully loaded carries over 200,000 pounds of highly volatile jet fuel. A thirsty fighter or bomber (called the "receiver") must carefully maneuver up to a boom which will act as a straw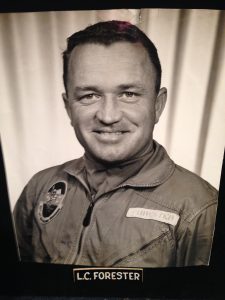 M/Sgt L.C. Forester, SAC
from which to drink. The boom operator ("boomer") has multiple responsibilities: he (and I am using the male pronoun here for simplicity, but certainly Air Force personnel can and are both males and females) has to communicate with his pilot and the pilot of the receiver, to ensure that safe closing speeds and protocols are being followed; he must use his "ruddervator" (a small wing-like structure on the boom) to 'steer' the fuel nozzle into the appropriate position while looking through a sighting window; he must ensure that the coupling is proper; he must control the flow of jet fuel into the receiver, usually at 6000 pounds of flow per minute; he must ensure that his refueler's tanks are emptied in a balanced manner so that the tanker doesn't become unstable; and he must disengage the boom and retract it after the fueling is complete – all while both aircraft are five miles in the sky, and flying at over three hundred miles an hour.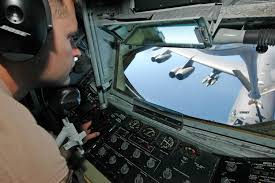 Boom Operator about to Refuel a Thirsty B-52 Bomber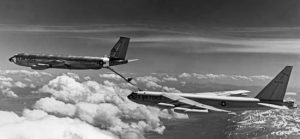 K.I. Sawyer AFB, near Marquette, Michigan, and Barksdale AFB near Bossier City, Louisiana became the home bases for Chuck and his family in the late 1950s and 1960s. However, Chuck's duties often took him far afield. One trip very nearly cost him his life.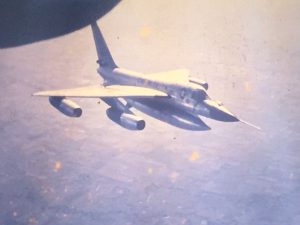 Chuck's Pictures of refueling a B52, an RF4, and a B58 "Hustler"
            On May 10, 1965 the 11th Air Refueling Squadron, with its newly supplied KC-135 Stratotankers, received orders for temporary duty to Okinawa. At 0030 hours (12:30 a.m.) on June 18, the crews were rousted out of bed and told to report to the base operations center. Some thirty bombers, each with its KC-135 tanker, were going to participate in the first massive B-52 bombing of Viet Cong concentrations in the Binh Duong Province northwest of Saigon. Given the complexity of the operation, and an impending typhoon, Chuck, like many others, felt that "this was going to be one hellacious fiasco." Dubbed Arc Light One, the original mission had been laid on in February for an attack of North Vietnamese air defenses near Hanoi. Delays caused by many things, mostly political, resulted in a compromised mission with limited goals. The approaching typhoon caused problems with the timing for refueling. Lumbering B-52s flying from Guam were spaced at five-hundred vertical intervals, much too close. The bombing "cells" consisting of three aircraft, were also in too-tight horizontal intervals. It was a recipe for disaster. Timing for re-fueling was critical, and the first cell of bombers, pushed by the typhoon's tailwinds, arrived nine minutes early at the refueling point. Rather than swinging out of the way, the lead aircraft led his cell directly back down toward the oncoming formation – and directly into the path of other bombers and tankers. When not refueling, Chuck would sit in the instructor's seat in the cockpit. He and the pilots spotted red and green lights off the nose in the distance. It turned out aircraft were coming toward them!  He went back to his station. His B-52 receiver, some eighteen miles behind him and just below was coming up fast. He visually picked it up at some five miles away. As the receiver approached his boom, Chuck saw something that gives him nightmares to this day. The back-tracking B-52 lead aircraft collided with the B-52 some 300 feet below him, shearing off the top of the plane, and losing its own right wing. The closing speed was probably 800 miles an hour. "I can still envision those boys being sliced to pieces," he says. "[The collision and ensuing explosion] lit up the whole damn sky. How the other planes avoided collisions I'll never know." His pilot took the KC-135 to 46,000 feet, dumping 120,000 pounds of jet fuel as it went and turned toward Okinawa – it had no one to refuel. Chuck's receive plummeted into the South China Sea. There were no survivors. Four men on the lead plane survived.
            Chuck's crew was de-briefed by a high ranking officer, who did not like what was told him – that the planning and execution was poor, had cost eight men their lives, and could have been much, much worse. Two days later, Chuck and crew, with oral orders only, flew to Bangkok. For the next two months, their KC-135 flew 13 refueling missions all over Southeast Asia. F-4s, F-105s, and any other aircraft needing a drink used their services. Arc Light One still bothers him. "Yesterday [June 18]," he told me on Sunday, 'was its anniversary. I think about it all the time. I can still envision those boys [in his receiver] dying."
Returning to the U.S. Chuck and family made their last transit to Barksdale AFB. For the next three and ½ years, he flew to SAC bases all around the world with the 1st Combat Evaluation Group, inspecting and evaluating re-fueling specialists.
I asked Chuck, "Why did you retire from the Air Force?" "I got tired of flying," he told me. Besides, he had a family that needed him. Master Sergeant L.C. Forester hung up his spurs. He and Beverly had purchased a house in Prairie Lea in anticipation of retirement, and moved there in 1970. Chuck could not stay idle long. He went to work for the Texas Agriculture Department, first as an inspector, and then supervising a fire ant eradication and control program. Then Chuck decided to really stay home, and supervised the Tri-Community Water Supply Corporation in Fentress for fifteen years. He then 'retired' for good, although keeping up with over a dozen grandchildren can hardly be described as sedentary.
Chuck's life has come a long way from a roustabout's shotgun house near the oil fields in Caldwell and Guadalupe County. And it has also come full circle, as he now lives not far from where he was raised. He will be the first to tell you that he continues to enjoy it to the fullest.
(A good book to read on the mid-air collision in 1965, written by Don Harten, co-pilot of the back-tracking B-52, is Arc Light One, Turner Publishing Company, Paducah, Kentucky 2003)