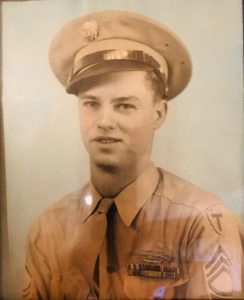 A CALDWELL COUNTY FARMER AND WARRIOR
WILLIAM MCGREGOR "BILL" TAYLOR
1921-1997
RECIPIENT OF TWO SILVER STARS, A BRONZE STAR, AND THREE PURPLE HEARTS
By Todd Blomerth
In 1945, William McGregor "Bill" Taylor finally made it home from the war in Europe, but not in the way he had hoped. Severely wounded on December 9, 1944, he spent nine months in hospitals in France, England, and finally at Wm. C. Borden General Hospital in Chickasha, Oklahoma, recovering from shrapnel wounds. For the rest of his life, his body bore evidence of what he endured, including small bits of shrapnel that would occasionally come to the surface of his skin.
Bill Taylor died in 1997. His is a story of survival, almost from the day he was born. He was one of the greatest of the Greatest Generation.
Born in 1921, Bill was the eighth and last child of John Hugh Taylor and Emma (Williams) Taylor. His oldest sister, Ella, died in 1910. She was followed by Luke (1902-1946), Bauzzle Turner (1905-1959), Martha Ann (Dinges) (1907-1971), Pearl Ether (1909-1976), Myrtle Ollie (Mercer) (1913-1972), and Jess Willard (1913-1946).
The family farmed and ranched outside of McMahan. Tragedy struck early. When he was nine, Bill's father died of a stroke. His mother died two years later. Now married, older sister Myrtle Mercer took him in to raise and for several years, Bill attended the tiny Oak Forest School, outside of Gonzales, Texas. He never finished high school. He returned to McMahan, but "got tired of milking cows," so, at sixteen, he enlisted in the Civilian Conservation Corps (CCC). Bill was assigned to a CCC company stationed at Glorieta, New Mexico. For a year, he and other young men worked on public works projects, and were required to send most of their pay home to help support their families.
Returning home to McMahan, he worked on the family farm. Perhaps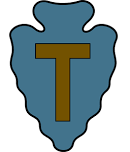 encouraged by older brother Bauzzle, on September 10, 1940, he enlisted at Lockhart in the Texas National Guard's Company F, 141st Infantry Regiment, 36th "Texas" Infantry Division.
To say that the United States was unprepared for World War II is a huge understatement. The pre-war Guard units were poorly equipped and undermanned. That didn't prevent the Texas Division's men from feeling greatly honored to be a part of the historic military unit. In the years to come, the 36th Infantry Division's combat record would more than justify its members' pride.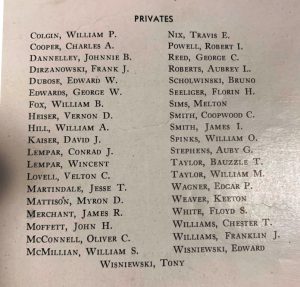 Bill and older brother Bauzzle in 1940 Company F roster. Company F, 141st Infantry, drilled in Lockhart. Luke was also a member. Company I, 141st Infantry, drilled in Luling. Lockhart also was home to the Regimental Medical Detachment.
Realizing that the United States would soon be drawn into the world conflict that had begun in China in 1937 and in Poland in 1939, President Franklin Roosevelt nationalized all National Guard units in late November, 1940. Bill had been in Company F for less than three months. Farmers and shopkeepers who were accustomed to weekend drills and two week summer camps found themselves in a full-time military force desperately in need of training, leadership and equipment. Early in 1941, the Division, with ranks swelling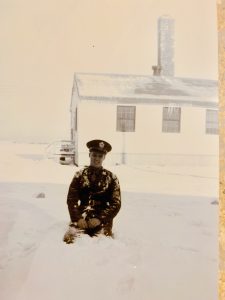 Bill, a Texan in the harsh winter snow of Massachusetts – early 1943
with new enlistees and draftees, began training at Camp Bowie, outside of Brownwood, Texas. Bill and his buddies endured rather Spartan conditions at the unfinished post. Training accelerated, and the Division participated in pre-war maneuvers in Louisiana and the Carolinas. The Division moved to Camp Blanding, Florida, and then to Camp Edwards, Massachusetts. Finally, in late March and early April 1943, the Division loaded on ships. Bill Taylor arrived in North Africa on April 13, 1943.
The Texas boys were eager for action. What they got was more training, and occasionally, guarding thousands of Italian and German prisoners of war. The Allies invaded the island of Sicily in July 1943, but the 36th Division remained in North Africa.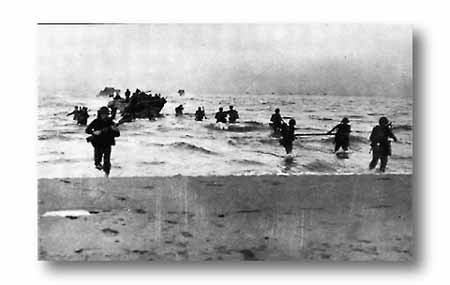 On September 9, 1943, F Company, 141st Infantry Regiment, saw its first action. It was very nearly its last. The Italians had suddenly surrendered to the Allies, and some Allied commanders expected little opposition to the landings near Salerno, Italy. The American and British divisions were put onto beaches split by a river. There was insufficient pre-landing bombardment. Unknown to the Allies, German troops had quietly moved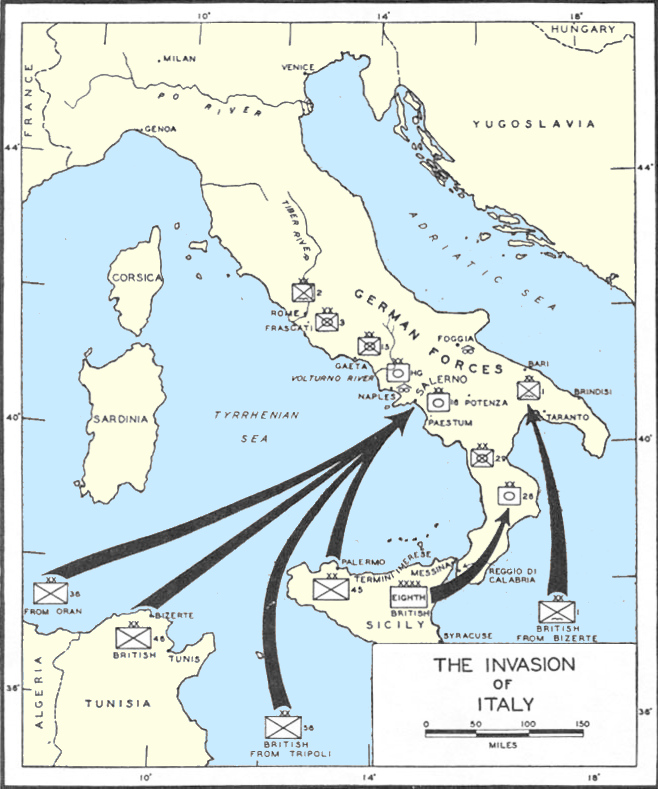 into the surrendering Italians' defensive positions. The 36th and 45th Divisions were nearly pushed off the beachheads by the well-entrenched enemy. Bill saw many men die that day. The 36th Infantry Division lost 250 mean killed in one day.
Destroyers and cruisers moved dangerously close to the shore and fired at almost pointblank range at the enemy. Overcoming the horrific enemy counterattacks, the 36th pushed ashore, and very slowly began the northward push toward Rome. The 'soft underbelly of Europe' turned out to be anything but. Mountains succeeded mountains and the Allies advanced against a well trained enemy. Rain, mud, cold, artillery barrages, snipers, and incomprehensible orders to take hills that hid German fortifications were the order of the day. The results were predictable. Young men were wounded and killed. Somehow, Bill survived bloody battles that drained the Texas Division of many good men. San Pietro, Mt. Lungo, Cassino and the Rapido River became synonymous with often unnecessary suffering.
The battered 36th Division was pulled off the front line in March 1944 to reequip and replace men lost. Meanwhile, in a badly executed attempt at an end-run around the Germans, Americans landed a force on the beaches at Anzio, sixty miles from Rome. Again, the Germans were nearly successful in pushing this force into the sea. The 36th Division went back into action, shoring up the beachhead, on May 22, 1944. The men of the 36th were instrumental in the Anzio breakout. The 141st Infantry Regiment captured the town of Velletri. The German defenses began to crumble and Rome was captured on June 6, 1944.
The Bronze Star is awarded for acts of valor in combat. Somewhere during the fighting in Italy, Bill was awarded a Bronze Star. While his platoon was retreating under withering fire from enemy tanks, "Sgt. Taylor improvised a litter with poles and blankets and aided by a buddy ran through the fire to rescue their wounded lieutenant."
The Silver Star is this country's third highest combat decoration for gallantry in action. Only the Distinguished Service Cross and Medal of Honor stand above it. Sergeant Bill Taylor earned two Silver Stars.
The first was during the break-out from Anzio toward Rome. The Gonzales, Texas newspaper later described what happened:
[Sgt. Taylor] attacked a tank which was holding up the movement of his company from a road junction…, and while the tank's guns tore limbs from the trees over his head, he slammed a bazooka shell into the enemy vehicle and knocked it out. "We fired simultaneously," recalled Sgt. Taylor. "I had to peer through the foliage of the broken tree limbs which were covering me to get a look at that smoking tank." His squad arose and finished off the Nazis and took 18 prisoners and the company resumed their advance on Rome. Sgt. Taylor was decorated with the Silver Star for bravery and resourcefulness.
The Purple Heart is a United States military decoration awarded to those wounded or killed while serving with the U.S. military. Sergeant Bill Taylor was awarded three Purple Heart decorations.
The first Purple Heart came during combat somewhere north of Rome, Italy. On June 17, 1944 a mortar shell exploded in a tree burst, and shrapnel struck him under his left arm. Fortunately, the wound was not serious, and Bill remained with Company F, where he was now a platoon sergeant.
The exhausted 36th Infantry Division was again taken out of the front line in Italy to prepare for another beach attack. Troubled by the slow movement against the Germans in the tangle of hedgerows after the Normandy Invasion, Allied commanders landed it as part of a large military force in Southern France. Thankfully, this seaborne attack went smoothly. Soon, Bill and Company F were pushing northward as the Allies tried unsuccessfully to surround and capture the thousands of enemy soldiers retreating toward the mountainous regions near the German border.
The weather turned cold and wet. The enemy retreat slowed. The Allies' supply lines stretched thin. I'm sure the 'old hands' who'd been in 141st Infantry Regiment wondered constantly whether the war would ever end, and whether they'd live to see that day. As the Allies closed on the Rhineland, the terrain became a huge factor.
Bill's second Purple Heart resulted from more serious wounds. On October 4, 1944, he and his men were returning from a successful reconnaissance mission when an enemy shell landed nearby. Its shrapnel shredded the shoulder of Bill's field jacket and some pierced his throat. He was patched up at an aid station, where he recruited his commanding officer's help to avoid being evacuated to a hospital.
Reading combat reports and histories of late 1944, I was struck with the descriptions of the 36th Infantry Division as being "tired and undermanned." Clearly, attrition had begun to affect the unit's readiness. Needing an additional four thousand men, it never got them. The reality of American combat in Europe at this time was that there weren't enough properly trained soldiers in the pipeline to replace the large number of those wounded or killed.
By late October, the Division was down to two-thirds its authorized strength, and part of a slow moving offensive in the gloomy Vosges Mountains. Nearing the German border, the enemy became more and more desperate. Hitler ordered his generals to strike back at the advancing Allies, in part to keep attention away from the thousands of soldiers massing in the Ardennes for what became known as the Battle of the Bulge. The fighting was vicious, and often hand-to-hand.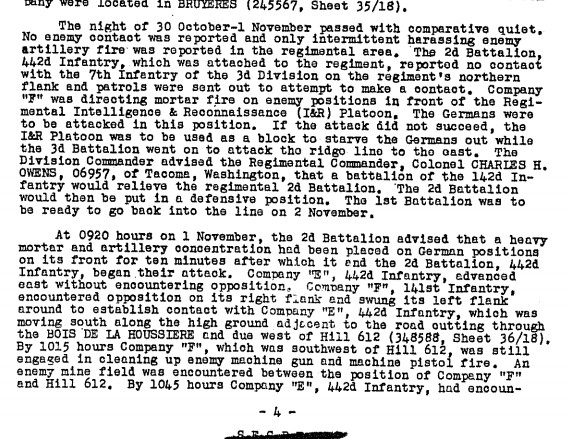 Near the French town of Saint Die-des-Vosges, near the German border, on November 1, 1944, Technical Sergeant Bill Taylor earned his second Silver Star. The citation speaks for itself:
William M. Taylor, technical sergeant, Company F, 141st Infantry Regiment, for gallantry in action on 1 November 1944 in France. During an attack against an enemy-held hill, Sgt. Taylor located the hostile machine gun which was delaying the advance of his platoon and immediately opened fire on the enemy weapon. After several anti-tank grenades had failed to dislodge it, he called for a friendly tank which was supporting the attack and directed it in knocking out the machine gun emplacement. Then, advancing directly in the face of heavy small arms fire, he led his platoon in an assault against the hostile force and with machine guns and tank fire, killed 12 of the enemy soldiers, captured 14 and completely routed the remainder of the hostile troops. By his personal courage and aggressive leadership, he enabled his unit to seize its objective. His gallant reflects great credit upon himself and the armed forces of the United States.
Bill's modest version was that "swapping machine gun and small arms fire was getting us nowhere and looked like it would prove costly in the long run. So we had the tank blast their positions while we rushed up the hill and wiped them out. Thanks to the bravery of the men, it worked OK."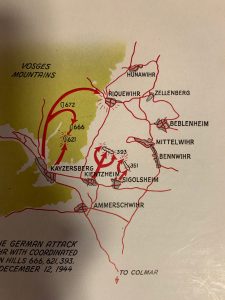 Bill's luck ran out on December 9, 1944 near the town of Riquewihr. Fanatical fighting erupted as the 141st took two small hills, and were then counter-attacked. The battle raged for hours, and Company F fought off a determined enemy in the Bois De Kientzheim. Severely wounded by mortar shrapnel, Bill was evacuated to a hospital in Paris. He later told his wife Jimmie that while in Paris, he stayed awake all night, quietly loosening bloody bandages. He knew they were to be changed the next morning, and the pain would be excruciating.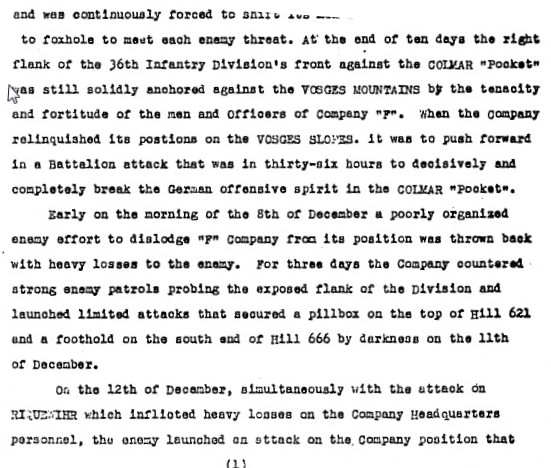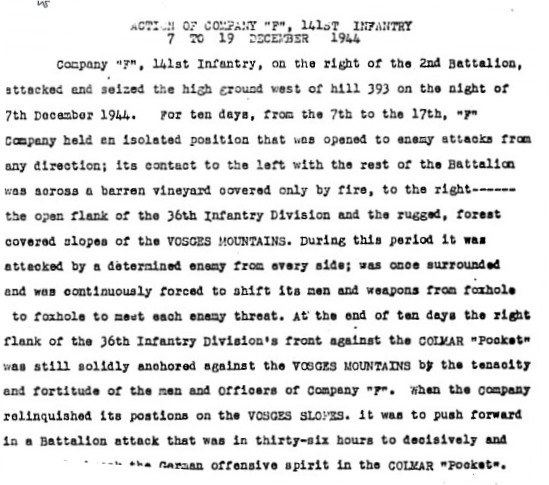 Bill was moved to the 187th General Hospital in England, and finally to the United States. In all, he spent nearly nine months recovering from his wounds.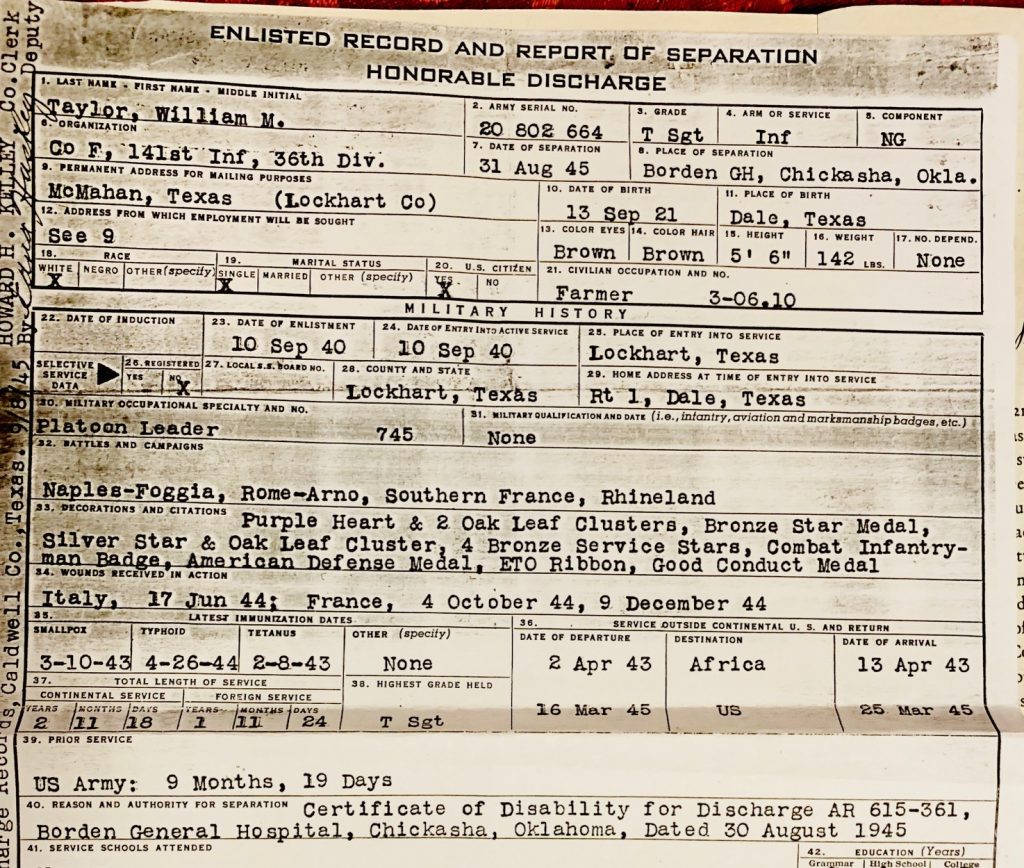 Technical Sergeant Bill Taylor's discharge record with dates of wounds, and list of awards and decorations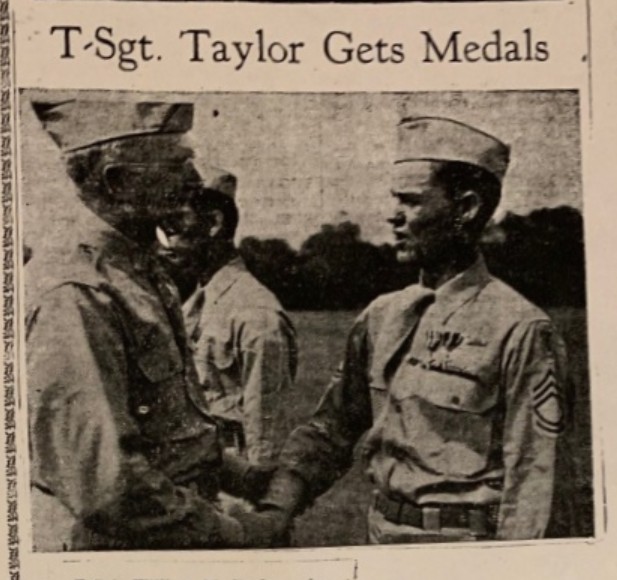 Bill put the war's miseries behind him. He farmed and ranched. In 1949, he married Jimmie Secrest in Uvalde, Texas. She comes from a ranching family with roots in Gillespie and Uvalde Counties. Jimmie recalls their wedding day laughingly. They almost didn't make it to the Justice of the Peace. Rain began filling a low water crossing. Desperate to get to the judge's office in Uvalde from her grandmother's house on the Nueces River, before the water closed the road, the couple eased into the crossing, only to have their car stall in the rising water. Jimmie punched the starter button to jump the car ahead, while Bill got out and pushed. Finally out of the water, they looked back to see a relative frantically waving to get their attention. Bill had forgotten their wedding license. Back through the water he trudged. Despite the rocky start, the two had a wonderful marriage. They were blessed with two children; John Wayne, who is married to Diana Lynn, and Peggy June, who is married to Weston Voigt. The family members were faithful members of McMahan Baptist Church.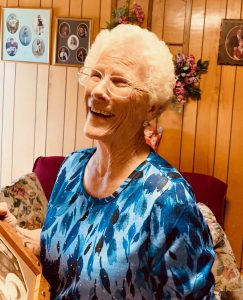 Jimmie, along with her best friend, Bobbie Dan Gideon, retired from the Lockhart State Bank. Bill farmed and ranched all his life. He also raised watermelons. He suffered from heart disease, and also underwent two hip replacements. He suffered a series of heart attacks, and died at St. David's Hospital in January 1997. He was seventy-six years old. He is buried in the Jeffrey Cemetery.
Did Bill suffer from what we now call post-traumatic stress disorder as a result of what he endured? No doubt he did, but showed little outward sign of it. Jimmie's only recollection along that line was of the time, when firecrackers went off on the Courthouse Square, Bill instinctively threw himself to the ground. He didn't talk much about his ordeal. He was quiet, almost bashful at times. Jeffrey Van Horn remembers him fondly. Before Bill and Jimmie build their own house between Lockhart and McMahan, the couple lived for a dozen years on the Van Horn property near Tilmon. "You couldn't ask for a nicer man," recalls Jeff. "He and Jimmie were good friends with my mother and father."
In 1983, there was a reunion of some of the men who served in Company F. Bill's former company commander, Bill McFadden attended, and later wrote a letter to Bill. Nearly forty years later, McFadden remembered that "the only time that I ever cried in WWII was when I helped you on a stretcher at Riquewihr."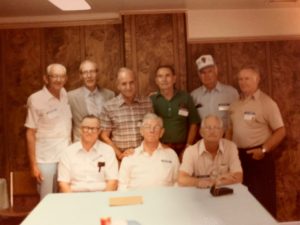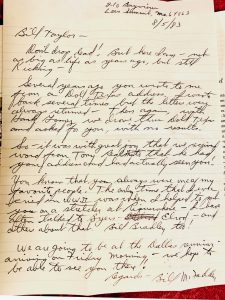 Bill's Company Commander's letter in 1983

What praise! His words speak more clearly of Bill's courage and leadership than any military commendation.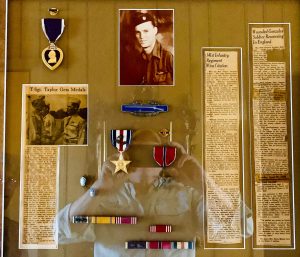 Grandson John Paul Taylor's shadowbox for Bill's decorations that he made for Jimmie
Various newpaper clippings from Lockhart and Gonzales regarding Bill