JUAN SALAZAR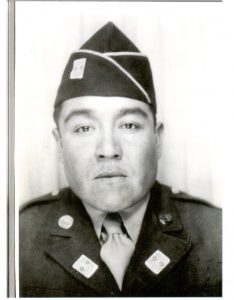 Juan was the oldest of nine children born to Jose and Antonia Rivera Salazar. Born on December 27, 1920, he was raised on a ranch near Reedville. The Salazar family was large. Juan had many siblings. Sadly, many died in early childhood. His sisters and brothers included Mariano, Julian, Hipolito, Guadalupe, Beatrice, Maura, and Tomasa.  Juan's father, born in 1896, was originally from Coahuila, Mexico according to his World War I draft registration card, which also listed his occupation as a farmer.
Juan was drafted and then inducted on September 12, 1942 at Ft. Sam Houston. Induction documents showed Juan to have had some grammar school education

, and standing 5'3" inches tall and weighing 143 pounds.  After basic and advanced infantry training, Juan ultimately wound up as an infantryman in C Company, 18th Infantry Regiment of the First Infantry Division. The 18th Infantry Regiment was one of the very first combat units to see action against the Germans and Italians. Landing in North Africa in December of 1942, it was the temporary home of the famed war correspondent Ernie Pyle, who wrote of its men and exploits extensively in Africa and Italy. It even became the basis of a great World War II movie, "The Story of GI Joe," starring Burgess Meredith as Pyle.
 When Juan became a member of the regiment, many of its original members had been killed, wounded, or rotated back to the United States. However, it was still one of the very best of the United States infantry units. Its parent division, the Big Red One was described at one time by one writer as 'more of a tribe than a military unit.' Its original commander Terry De La Mesa Allen had been relieved of command (he would later command another division) because he allowed his men to behave more like a band of pirates than a 'by the book' division. The men of the Division took great pride in that distinction.
               By the time Juan joined the Big Red One, it had seen combat in North Africa and Sicily. It then retuned to England in November 1943 and under the capable leadership of Major General Clarence Huebner trained for the anticipated invasion of the European continent. Juan joined his unit at some point prior to June of 1944, and took part in the intense pre-invasion training. The Division struck at Omaha Beach and was bloodied badly, with some of its units suffering over 30% casualties. Because of mines, beach obstacles, and confusion, C Company's battalion was not able to hit Omaha Beach's Easy Red Beach until 12:23 p.m. on June 6, 1944.  The recently taken beach exit, E-1, proved to be a choke point for the desperate Americans. The men of the 18th Infantry witnessed the bodies of hundreds of men already killed and wounded. In the recently published The Dead and Those about to Die, John C McManus writes:
The biggest impediment now for anyone trying to leave Easy Red was mines. Because of the tenacious German resistance, engineers had been able to clear only a narrow path, perhaps just a bit wider than a man's shoulders, through the mines along the E-1 draw…Individual solders had marked live mines with wisps of olive drab toilet paper…The path itself was the only feasible exit route off the beach for the newly arrived mass of 18th Infantry Regiment reinforcements….It was the functional equivalent of pouring a barrel of beer through a funnel. What that meant for [the regimental commander] was that his battalions had to stretch out in long, single-file columns as the moved up the draw. Moreover, they remained under a steady stream of mortar and artillery fire. Thus, the journey up E-1 was tense in the extreme, an exercise in patience, discipline and controlled terror.
Juan was awarded the Bronze Star for gallantry on that day, (received by his family posthumously in a ceremony at Camp Swift, Texas in August of 1945).
           The Big Red One took part in combat all across France. By September of 1944, the Allies were approaching the German homeland. The Allies began suffering from a shortage of personnel and supplies. Sadly, they were also lacking in insightful leadership. Concerned about large dams and their possible destruction, American commanders chose to launch repeated frontal attacks into one of the most easily defended areas of Europe –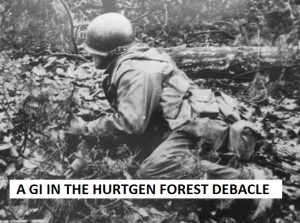 the Hurtgen Forest. The logic of attacking well entrenched German defenders in the Hurtgen instead of containing the defenders, and avoiding it all together has never been explained. General Dwight Eisenhower chose to avoid discussing it in any length in his memoires. Along with other divisions, the Big Red One was thrown into battle in one of the biggest wastes of young manpower on the Western Front. Quoting from Charles Whiting's The Battle of Hurtgen Forest:
[The GIs] called it simply 'the Death Factory'.' For that was what the fifty square miles of rugged, hilly woods lying on the Belgian-German border below the city of Aachen was. From September 1944 to February 1945, every two weeks or so, a new American division of infantry was fed into those dark green, somber woods, heavy with lethal menace. Fourteen days later the shocked, exhausted survivors would be pulled out, great gaps in their battered ranks, passing like sleepwalkers to 'new boys' moving up for the slaughter. Seeing nothing, hearing nothing, muddy, filthy, unshaven, they had somehow escaped the Death Factory while around them their comrades had died by scores, by hundreds, by thousands. In the six months of the Battle for Hurtgen Forest, eight infantry and two armored divisions, plus several smaller U.S. outfits, went into the Death Factor. In a matter of only fourteen days most of the rifle companies suffered up to 50 percent casualties….By the end, nearly thirty thousand young American soldiers died or were wounded there and many thousands more crack and went down with combat exhaustion, unable to take any more.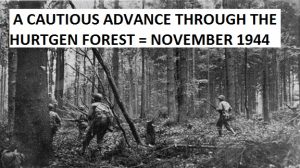 In the words of General James Gavin, Commander of the 82nd Airborne Infantry Division, "For us the Hurtgen was one of the most ill-advised battles that our army has every fought."
It was in this prolonged combat in Hurtgen's foreboding gloom that Pfc. Juan Salazar lost his life on December 3, 1944. Juan was buried in one of the many temporary American cemeteries, and then brought back to the United States and laid to rest in Reedville's San Juan Cemetery in 1948.