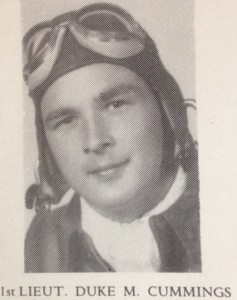 Duke D. Cummings is inexplicably left off the official listing of men and women from Caldwell County who died in WWII. It may be that he had moved off briefly to California. Nonetheless, he is most definitely one of our own. Duke was born in Port Aransas but spent most of his school years in Luling. He was a star football player on the Eagle squad. His father Newton Cummings was a teamster in the oil patch. His mother was Elva Lynn Duke, who was living in Grayson County, Texas when she met and married Newton Cummings. Duke's first name was apparently in honor of his mother's family. The family moved around. His younger sister, Val Jean, was born in Erath County in 1927. In 1930, the family was living at 167 Rife Street, Aransas Pass. Between 1930 and 1935, his parents divorced. His father, Newton S. Cummings, was a teamster, and would eventually move up to central Texas. Duke was raised by his mother in Luling. Elva Lynn remarried in 1942, moving to Texarkana, Arkansas.
After high school, he attended Seguin Lutheran College (now Texas Lutheran University) for two years. According to his high school classmate, Dr. Tom Matthews, Duke moved to California to work in the defense industry. He enlisted the Army Air Corps on November 1, 1941 at Ft. Sam Houston. In all probability, he was told he would be called up when a slot opened. The 1942 Paso Robles phone book still showed Duke living at 629 Osos Street, with a listed occupation as a 'warehouseman.'
Sometime in 1942, Duke was called up. After successfully completing primary and basic flight training, he was sent to Geiger Field in Spokane, Washington, and graduated with a co-pilot designation on the B-17 four-engine bomber. He was assigned to the 301st Bombardment Group's 353rd Bombardment Squadron (Heavy). Part of the U.S. Twelfth Force, the Group and its four squadrons were based in North Africa. Extensive bombing raids were made over the island of Sicily as part of the Allied attempt at strangling Axis supply lines to North Africa (Operation Flax) and in anticipation of the invasion of the island. The B-17 was one of one of the US Army Air Corps' most prolific bombers. However, despite its designation as a 'Flying Fortress' is could prove easy prey to enemy fighters, unless properly escorted. In early 1943, this often was not the case.
On April 13, 1943, his ship was piloted by 1st Lt. Jerry E. Thomas. It took off from its base at St. Donat, Algeria on a bombing raid against airfields at Castelvetrano, Sicily. After turning back toward North Africa, it was attacked by German aircraft. The plane went down in the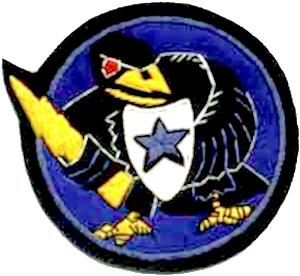 353rd Bombardment Squadron Emblem  
 waters ten miles west of Cape Granitola, Sicily. As Dr. Matthews says, "It was wartime. No one had time to look for survivors."
Missing Air Crew Report 16302, declassified in 1982, shows just how little effort was made, and possibly how little effort could have been made, to ascertain the exact circumstances of B-17, Aircraft Number 41-24394's disappearance. Five pages, mostly blank, with a few blanks filled in on a pre-printed form, are all that memorialize the deaths of a crew of ten. "Failed to return from a mission over Castelvetrano, Italy," is all that is said.
The Luling Newsboy was hopeful. "It is entirely possible that Lieut. Cummings has bailed out of his damaged plane somewhere in the African wastes – again, he may be a prisoner of the enemy. Luling has already experienced several instances of our sons reported 'Missing In Action' who turned up later, and it is the fervent hope of every soul of this community that such are the circumstances now."
Elva received a letter from Duke's tent-mate, Lt. William Benson. Benson wrote:
The plane of which Lt. Cummings was a crew member was damaged, but not badly, but practically all of the crew got clear and parachuted to safety, though in enemy territory. I believe he is safe, but a prisoner of war, for I took particular notice to look where the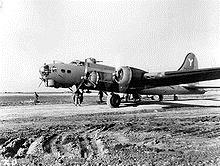 A 301st Bomb Group B-17 – North Africa
 parachutists came from and although I was flying some distance ahead of his damaged plane, I am nearly certain he got clear…
It was not to be. By letter dated April 14, 1944, the War Department notified his mother at her rented house on North Oak Street in Luling that a year had passed, and there was no more hope. She was told that the War Department "must terminate such absence by a presumptive finding of death."
            The plane and crew were never found. Duke's name is memorialized at an American Cemetery in Italy.
Duke Cummings was twenty-one years old.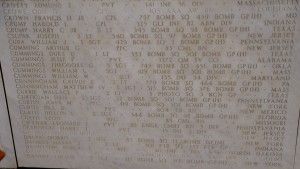 Tablets of the Missing, Sicily-Rome American Cemetery, Nettuno, Italy